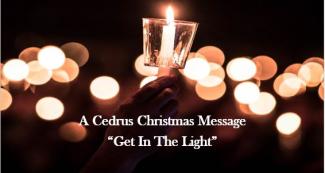 John Scott - Get in the Light; A Christmas Love Letter
I think all our clients know that my faith as a Christian is the single most important element in my life.  Cedrus at its beginnings, was a faith walk in most ways.  We have been at it now 10 years and many unfathomable stories that have now become testimonies were solely the responsibility of my confidence and execution of very specific commands given during deep intimate prayer time.  Most of you know of these stories…if not ask us!  They are real and offered to encourage you.
The perception in the U.S. today is that our culture makes it hard or impossible to be a leader of a company using your tools of faith.  But that is all it is, a perception…maybe dare I say even a deception.  I am living proof of that.  It's hard to do, because you are "not like all the others".  But last time I checked, corporations keep spending billions of dollars on marketing and branding incessantly trying to carve our differentiation.  Observing this for 40 years has fascinated me.  It's sad how this approach of branding has made such entities billions of dollars, but they rarely build anything that endures.  Companies like Sears, Montgomery Ward, American Standard, Eastern Airlines, Lehman Brothers & GE that seemed to dominate our economy and culture have faded into dust.  Someday too this may happen to Apple, Google and Amazon! Mark my words.  The reason this generally happens is that the leaders (not necessarily the founders) are focused on profit and ego, not the most important things in this world.  Right?
In my opinion, this same holds true for media.  US Culture has been dominated by media in the past 50 years.  Over time weak leadership have taken the reins and the course is now predicable.  American culture seems to be ruled by greed, fear, and anxiety bred by false messaging marinated into our actual being.  These media sources are clearly at their "Waterloo" and are dying (as they should).  But we Americans are so used to using them as our source of "Truth" that we have literally become entrails of the damage this dynamic has caused.  We are losing our sensibility, purpose, and soul while our idols of truth inevitably fail. But here is the "Good News", we (humanity) will win in the end.  It's important to have this hope.   That the outcome is in the end good, in fact better than you can imagine.  How about that!  Sounds like I am crazy?
Now for some important truths that I share with you out of love.  I want to share truth for you consider on the subject of:  DARKNESS and LIGHT.  It's Christmas Eve, so please let me indulge with some Biblical Scripture.  Look them up, they are cool.
1 John 5-10
This is the message we have heard from Him and declare to you (out of care and love): God is light; in Him there is no darkness at all.  If we claim to have fellowship with Him and yet walk in the darkness, we lie and do not live out the truth.  But if we walk in the light, as He is The Light, we have fellowship with one another……
1 John 2 9-11
Anyone who claims to be in the light but hates a brother and sister is still in the darkness!  Anyone who loves all their brothers or sisters' lives in the light, and (importantly) there is nothing in them that makes them stumble.  But anyone who hates a brother or sister is in darkness and walks around in darkness.  The do not know where they are going because the darkness has blinded them.       
One more scripture. This one is big.
Ephesians 6 10-12
Finally, be strong in the Lord and in His mighty power.  Put on the full armor of God, so that you can take your stand against the evil one's schemes.  (now the key part) For our battle is NOT with flesh and blood but instead between two opposing principalities.  Light and Darkness. 
Ok, so what is the point here?  I know some of you are not religious (by the way I am not either), and know I am not trying to impose anything on you. I'm just asking, turn on your TV over the next few nights, watch the news and messaging.  Do you see hate or love?  Do you see darkness or light?  It's so obvious isn't it?  We are in the darkness, we don't know where we are going, and our truths are falling short.  No wonder everybody is so scared, everything is uncertain! And the media is the purveyor of this.  Mick Jagger spoke of it in "I Can't Get No Satisfaction".  Don Henley "Give Us Dirty Laundry".  This is NOT new folks.
But here is the truth, try it on for size.  The Light is here, on earth, today and always has been since that night in Bethlehem.  It (He) came to offset the darkness, to eliminate it, if we would just believe it and (per Paul McCartney) Let It Be!  Here is the truth and its adjectives for more clarity:
DARKNESS:  Fear, deception, self/ego, greed, apathy, aloneness, destruction, uncertainty, entitlement, comparison, scoreboards, Fear!
THE LIGHT:  Grace, contentment, humility, peace, satisfaction, inclusiveness, community, protected, servant's heart, trust, undeserved favor, Grace.
 The opposites now.  The Light vs Darkness.  Grace vs Fear.  The Truth.
Thanks for letting me share this on Christmas Eve.  I hate that there is so much fear in our world right now. We make lousy decisions when we are uncertain and in the dark.  I pray that you, our beloved clients and friends, can overcome fear by moving into The Light!  The darkness ALWAYS passes, because in the end, it never wins.